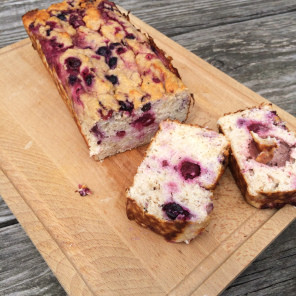 What do you need:
500 grams of cottage cheese
3 proteins
50 grams of oatmeal
40 grams of coconut flour
50 grams of whey (you can also replace this for extra oatmeal with possibly cocoa)
5 grams of baking powder
pinch of salt
250 grams of frozen fruit (I used forest fruits)
This is how you make it:
Preheat the oven to 180 degrees
Mix all dry ingredients together in a bowl. Then add the curd cheese and the egg whites. Mix this well together so that there are no lumps in it. Then add the frozen fruit. (this may just be frozen)
Put the batter in a cake form. Make sure the cake pan is lined with baking paper or that you have greased it with butter and flour.
Then you put the cake at 180 degrees in the preheated oven for 65 minutes.
When you take the cake out, first let it partially cool in the mold and then let it cool outside the cake mold. And your healthy  cake is ready.
I immediately cut it into pieces and freeze a portion of the cake into pieces. That way I always have a healthy one
snack in the house.
Own website: https://tiffskitchenblog.wordpress.com/
Instagram: tiffskitchenx