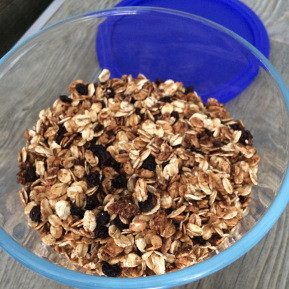 What do you need:
180 grams of coarse oat flakes
20 grams of linseed
40 grams of currants
Spices as desired I used this time cinnamon and cookie spices
water
Of course you can put in whatever you like such as nuts, seeds, pieces of cocoa nibs, dried fruit or cocoa.
This is how you make this delicious granola:
Preheat the oven to 170 degrees and cover a baking pan with baking paper. Put the erythritol with 2 tablespoons of water in a saucepan and put it on a low heat. Make sure the Erythritol dissolves completely in the water. Put all the remaining ingredients in a bowl and pour your mixture over it. Mix this well together and then divide it over the baking pan.
This first in the oven for 8 minutes and then scoop it once. Then in the oven for another 5 minutes and stir it one more time. Finally 5 minutes in the oven and your crunchy granola is ready.
Enjoy your meal!