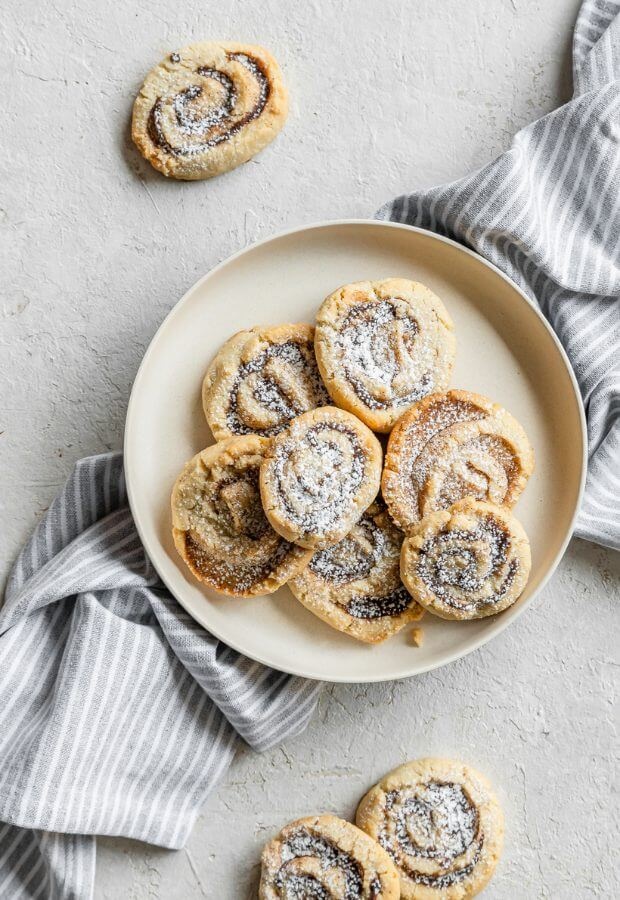 cookie dough:
130 grams almond flour
1/2 teaspoon baking powder
little sea salt
1 teaspoon vanilla extract
60 grams of butter
Filling:
1 1/2 teaspoon ground cinnamon
Topping:
How to make this delicacy:
Mix the almond flour, erythritol, baking powder and sea salt in a food processor. Add the vanilla extract and butter to the food processor.
Mix until a thick dough starts to form. Spread the dough out on a piece of baking paper into a rectangle. Cover the dough with another piece of baking paper. Roll out the dough with a rolling pin until the dough is about 1 cm thick. Place the dough in the fridge for about 30 minutes. It should get stiff but still be able to roll without crumbling.
In a bowl, mix the erythritol (or the Green Sweet Sweet Cinnamon) and cinnamon. Sprinkle this mixture over the cooled cookie dough.
Wrap the cookie dough in the parchment paper and refrigerate for about an hour or until firm. Take out the dough and cut it into slices. Preheat the oven to 180 degrees. Line a baking tray with baking paper and spread the cookies evenly. Bake the cookies for 9-10 minutes or until golden brown.
Let the cookies cool on the baking sheet for 5 minutes before removing them. Sprinkle with Green Sweet Icing.