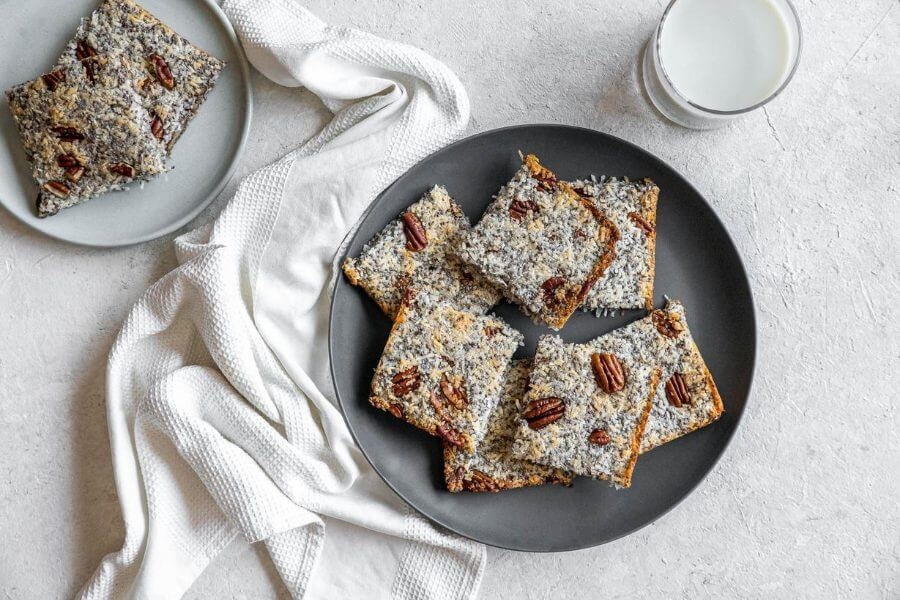 What do you need:
4 tablespoons chia seeds
1/2 cup water
125 grams unsweetened shredded coconut
1 tablespoon coconut oil
1 tablespoon Green Sweet Erythritol
1/4 teaspoon vanilla extract
60 grams pecan nuts

Here's how to make these bars:
Preheat the oven to 175 degrees.
Mix the chia seeds and water in a bowl and let it sit for about 15 minutes until it thickens.
In another bowl, combine the soaked chia seeds, unsweetened shredded coconut, coconut oil, Erythritol and vanilla extract. Stir everything well. Gently stir in the pecans.
Line a baking pan with baking paper.
Pour the mixture into the parchment-lined baking pan and spread it evenly.
Place in the oven for 40-45 minutes or until the edges are golden brown.
Let it cool well before slicing and serving.