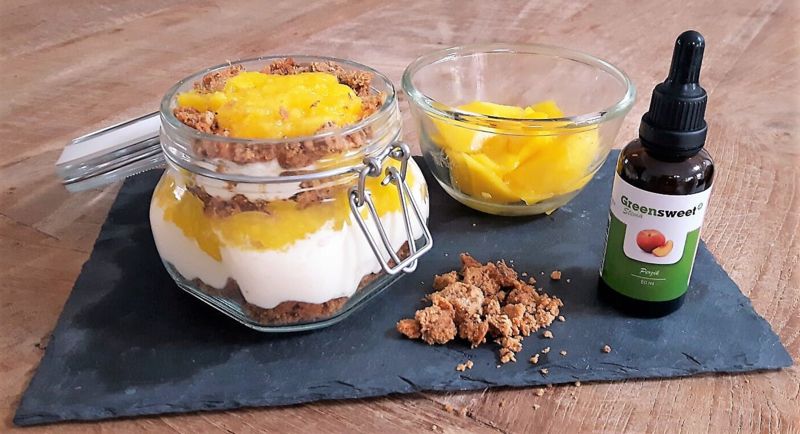 What do you need:
Bottom:
25 g butter
100 g of almond flour
10 g of broken linseed
4 gr Green Sweet Extra Sweet
1 egg (only the protein)
1 level elicits
Filling:
150 g cream cheese (Philadelphia
200 ml of whipped cream
8 g Green Sweet Extra Sweet
12 drops Green Sweet liquid stevia Peach

Jelly
200 g Mango (fresh or frozen)
20 g Green Sweet Jam Jelly Crystal
1 jar
This is how you make it:
Heat the oven to 180 C. Melt the butter and mix the ingredients from the bottom to a firm mixture. Put baking paper on the oven baking tray and spread the mixture over the bottom and press well. Bake the bottom in the oven for 20 to 25 minutes and then allow to cool.
Whip the whipped cream, add rest of the ingredients of the filling and mix into an even mixture.
Meanwhile, make the jelly by pureeing the fruit and then heating it in a pan with the Green Sweet jelly sugar.
Crumble the cooled soil and put it in the bottom of the jar. Then the filling on top and then the mango jelly. I have made layers in this recipe with the soil, filling and the jelly, but that is of course not necessary. Leave the jar in the fridge for at least 1 hour. You can also distribute everything over various small pots and serve as dessert. Make it ready in the morning or a day in advance!
Source: a variation on the recipe of Oanh's Kitchen the low-carbohydrate and gluten-free pie