Yogurt tarts with blueberries and lemon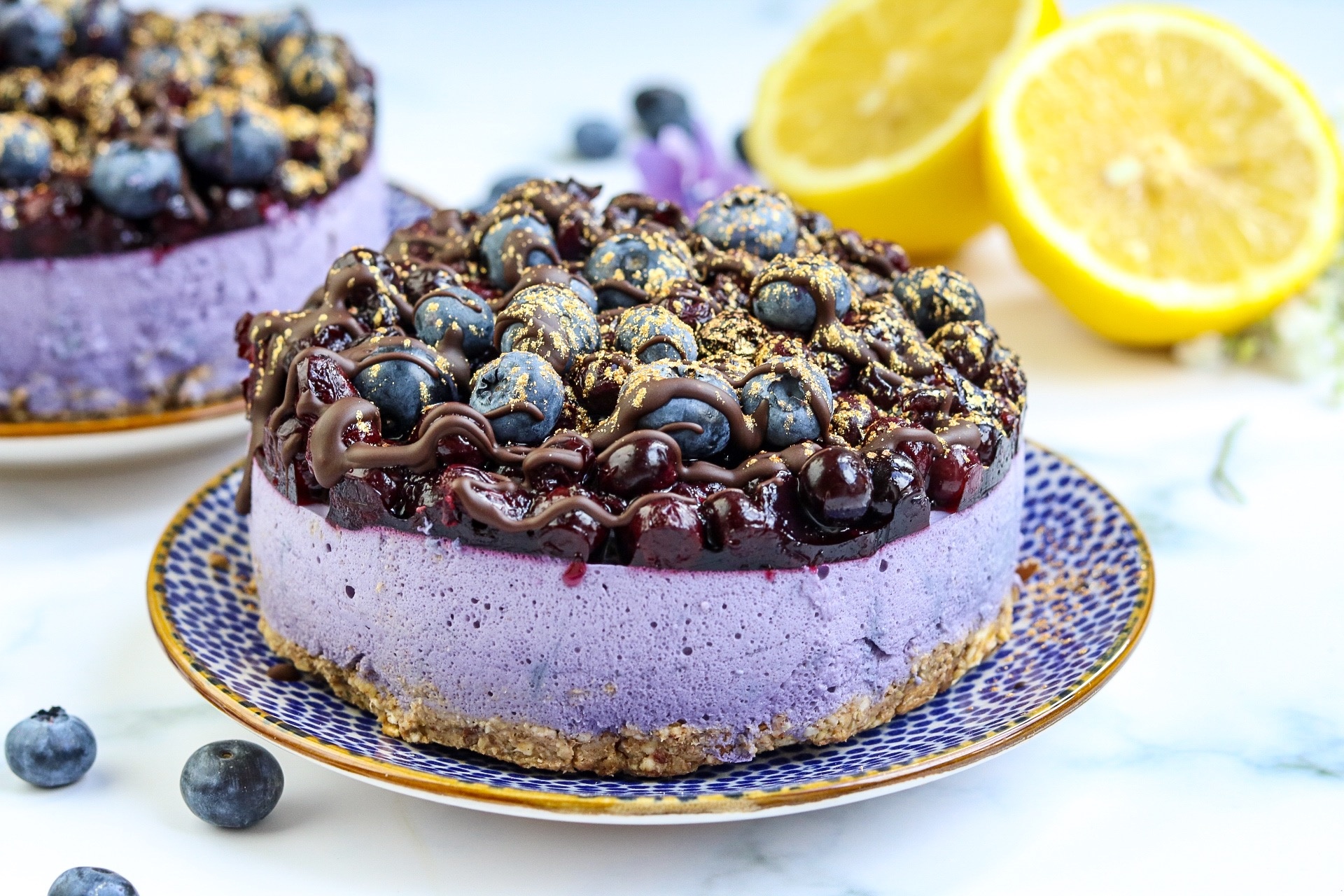 What do you need:
2 springforms 10 to 12 cm or 1 springform 16 to 18 cm
For the bottoms:
3 Medjoul dates
60 g almond flour
20 g baking banana flour or 30 g gluten-free oatmeal
20 g coconut oil
Pinch of sea salt
For the filling
500 g coconut yogurt or a firm yogurt of your choice
40 g maple syrup
2 tsp lemon zest
1 tsp vanilla extract
4 sheets of gelatin or 3 g of agar agar
For the topping:
300 g blueberry frozen or fresh
Fresh blueberries as a garnish
Optional: dark chocolate, gold powder.
This is how you make these delicious cakes:
Cover the bottoms of the spring form with baking paper. Preheat the oven to 180 degrees.
Put all the ingredients for the bottoms in a mixing bowl and knead into a smooth dough. Taste if your dough is tasty.
Spread the dough on the bottom of the springforms with the convex side of a spoon, press well and slide it into the oven for 7 minutes.
In the meantime, get started with the filling. Stir the ingredients together in a mixing bowl.
Do you use gelatin? Soak the gelatin leaves in cold water until they are weak and flexible. Heat a few tablespoons of water in a pan and heat the gelatin in it. Remove the pan from the heat as soon as the gelatin has dissolved. Add the yogurt mixture while stirring. Continue to step 7.
Do you use agar agar? Boil the agar agar in a splash of water. Add the yogurt mixture while stirring. Let the mixture simmer for about 2 minutes. Remove the pan from the heat and continue with step 7.
Do you want a lighter mixture? Rod mix the substance for a few minutes, bubbles will form in the filling and you will see that the structure will be finer.
Pour the mixture over the bottom of the cake and slide your pearl into the fridge for about 2 hours.
Then start making the topping.
Heat the blueberries in a pan, then add the Green Sweet Jelly Crystal . Boil the mixture while stirring well. You will see that it will thicken to create a coulis.
Allow the forest fruit coulis to cool a little before you drape this onto the cake.
Slide the tarts into the fridge for a while so that the topping can stiffen. Garnish the cake with the fresh blueberries and a swirl of dark chocolate and enjoy!