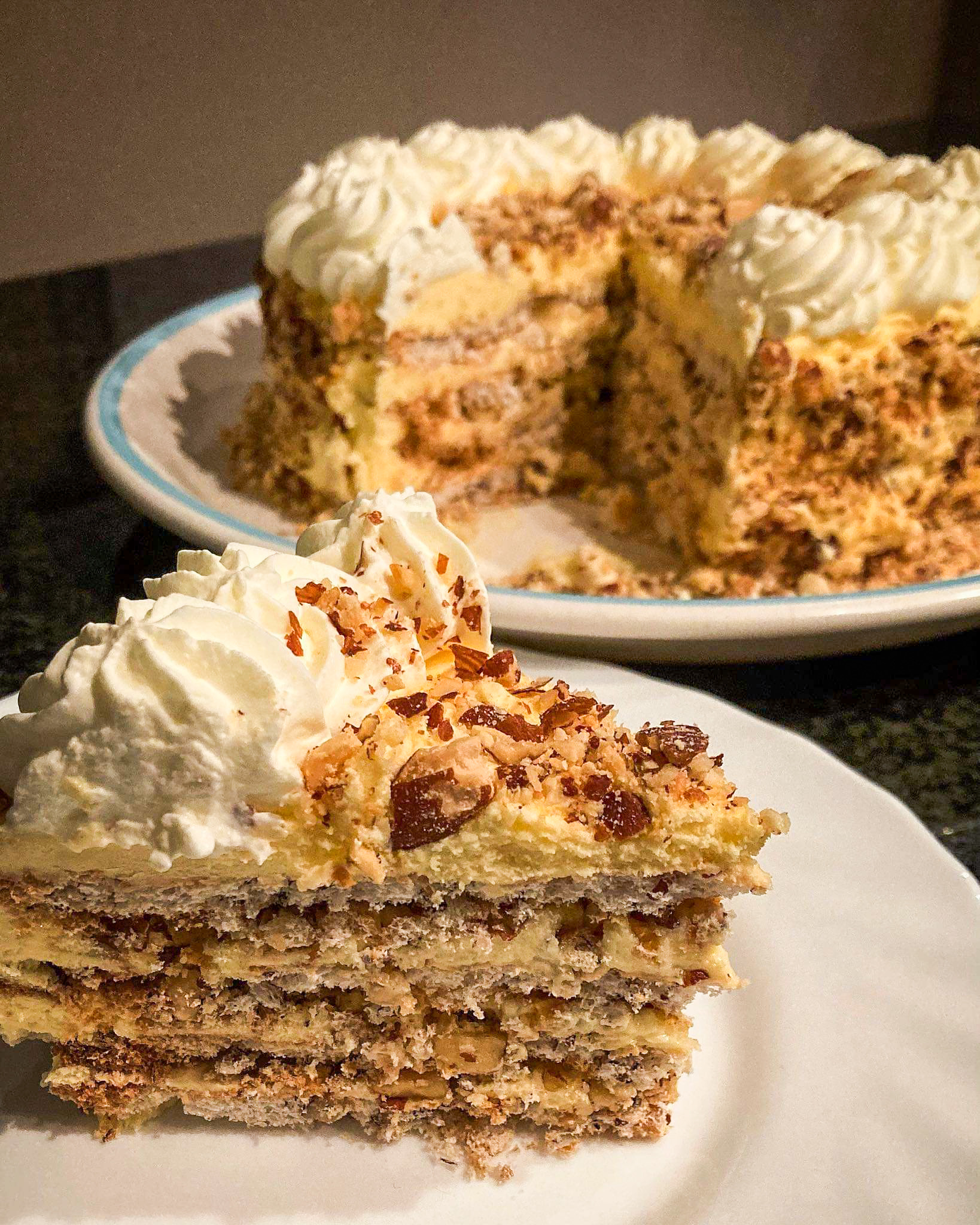 What do you need:
For meringue:
1/2 tsp cream or tartar *
5 proteins
75 grams of almonds
Note: you need about 225 grams of almonds in total for the filling & to decorate the cake. You can also use any other low-carb nut such as hazelnuts, Brazil nuts, walnuts, pecans or macadamia.
* Replacement for cream or tartar:
1 teaspoon of cream or tartar = 1 teaspoon of lemon juice (in meringues)
1 teaspoon baking powder (in baking)
Ingredients for buttercream:
230 g vegetable butter
60 ml of water
3 egg yolks
1 egg
1/4 tsp vanilla extract.
Decoration:
200 ml whipped cream or coconut milk
Food processor
This is how you make this delicious cake:
Roast the almonds for 10 minutes in the oven at 180 C. Cool for a while and then grind finely in a blender.
Make the meringue:
mix the egg white, cream or tartar and add the liquid stevia vanilla. Blend it for about 7-8 minutes until you have soft peaks. Preheat the oven to 150 C. Add 75 grams of ground almonds to the protein mixture and stir carefully. Pour the mixture into a piping bag, place baking paper on a baking tray and make 4 equal circles. Bake for 30 minutes. Allow to cool completely after baking.
Make the buttercream:
Gently mix the egg yolks & vanilla extract. While it is mixing, take a saucepan & pour in the water & add the erythritol, simmer for 5 minutes so it gets a little viscous. Pour this into the egg yolk mixture and mix for 8-10 minutes. Place the mixture in the refrigerator to let it rest for 1 hour. After 1 hour, little by little add the softened butter while mixing on medium speed. It takes about 15 minutes to reach the correct thickness.
You will notice that the volume of the butter cream is twice as large after mixing it. Remove the meringue from the baking tray and place 1 circle of meringue on a cake plate. Brush with 2 spoons of buttercream, sprinkle with ground almonds and repeat this process until all the meringue has been used. Spread the rest of the buttercream all over the meringue to cover it. Take the rest of the ground almonds and decorate the cake.
Beat 200 ml whipped cream and 8 drops of Greensweet liquid stevia vanilla, fill a piping bag with it, decorate the cake and sprinkle the rest of your ground nuts in the middle. Put it back in the fridge and let the cake rest for another hour.
And then enjoy!
Source: Rosa Mae from Ketofied Foodies