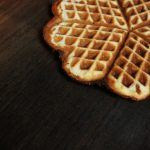 What do you need:
2 pieces of split eggs
1.5 tbsp coconut flour
1/2 tsp baking powder
1/2 tsp vanilla
pinch of cinnamon
1/5 tbsp whole milk can also be whipped cream
50 gr melted butter
This is how you make it:
Put the egg white in a bowl and beat until stiff. Take another bowl and mix in the egg yolk, coconut flour, stevia and baking powder. Add the melted butter to the bowl, stir briefly and then add the vanilla and milk.
Carefully add the beaten egg white to the yolk. Try to keep the mixture as light as possible. Heat the waffle maker and place enough of the batter on the appliance to make a wafer. Bake until the wafer turns brown. Repeat this process until the batter is used up.