Vegan vanilla cake with hazelnut caramel frosting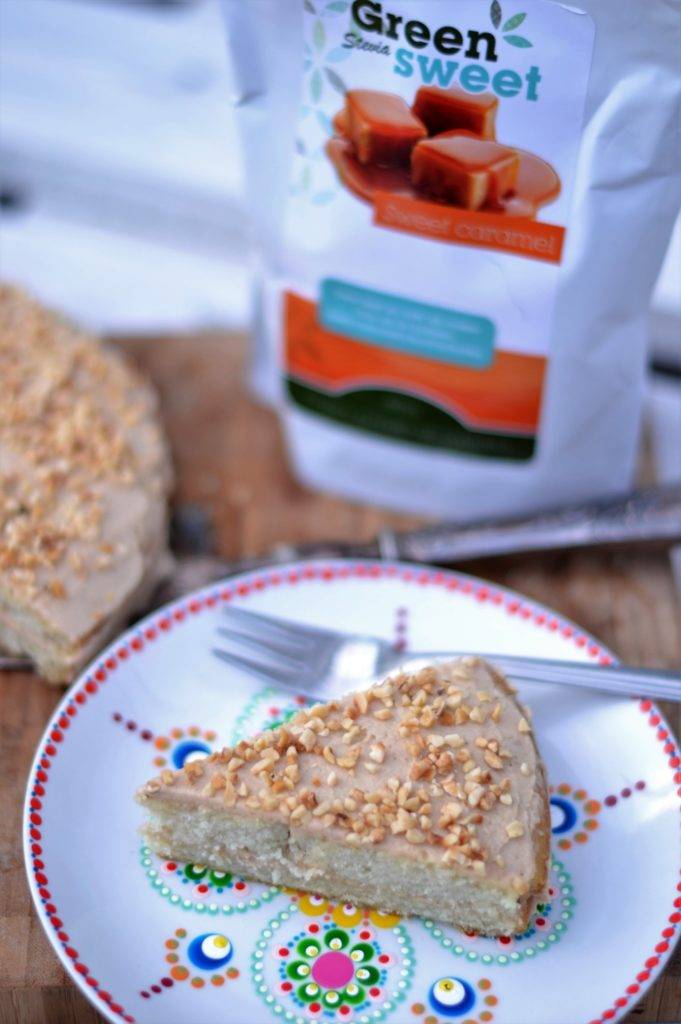 What do you need:
250 ml almond milk (or another vegetable milk),
2 tsp apple cider vinegar,
50 ml coconut oil (melted),
300 grams of rice flour (white rice),
3 tbsp cornflour,
1 teaspoon baking soda,
1 teaspoon of tartar baking powder
a pinch of salt.
* if you want it sweeter, use75-100 grams of Green Sweet Sweet Vanilla.Still experimenting myself. Because of the hazelnut caramel frosting I find it in balance for myself, but if you want it even sweeter… ..
You determine yourself with the amount of hazelnut caramel frosting.
This is how you make it:
Preheat the oven to 180 degrees and line the bottom of the cake tin (23 cm) with baking paper and grease the edges.
Add all dry ingredients except the baking soda in a large bowl and toss well.
All wet ingredients, with the exception of the apple cider vinegar, combine in another bowl and mix well.
Add the wet mixture to the flour and toss well.
In a bowl you put the baking soda together with the apple cider vinegar. Stir briefly and add to the batter. Shovel well.
Pour the batter into the pie pan and put in the oven for about 30 minutes. Does your cocktail stick come out dry and clean? Then your cake is done.
Let cool for 10 minutes before removing the cake from its mold. Then let it cool down well.
When the cake has cooled down properly, you can cut it in half (horizontally) if necessary. Then spread some hazelnut caramel frosting on the bottom and put the top back on the bottom. Cover the cake with the remaining frosting. Cut the cake into at least 8 pieces. Mmmmmmm
Source / photo: Manon de Wit (@veganflavours via instagram)