Apple crumble gluten free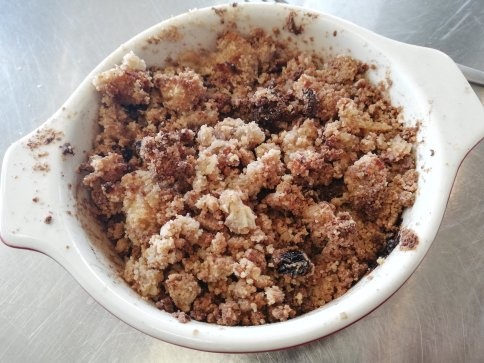 What do you need for 1 portion:
1 apple
1 tsp cinnamon
Few raisins
Almond shavings
55 grams of buckwheat flour
40 grams of hard butter
This is how you make this crumble:
Preheat the oven to 200 degrees.
Cut the apple into pieces and mix this with the cinnamon, raisins and almond shavings. Put the mix in an oven-proof dish.
In another bowl, mix the buckwheat flour, the erythrithol and the butter. You can mix this with a mixer, but with your hands it goes just as fast. But rubbing movements with your fingers, so that the butter comes loose and mixes with the flour and erythritol. Try to make sure that the butter does not become too soft between your hands. (it has to be a crumble and not a coherent dough)
Then you can sprinkle the crumble over the apple mixture and then put the dish in the preheated oven for 15 minutes.
After 15 minutes you take the dish out and stir the crumble layer with a fork. This ensures that the bottom layer is also cooked. Put the oven on 175 degrees and put the dish in the oven for another 10 to 15 minutes. In the meantime, pay attention that it does not become too hard / dark.
And your delicious gluten-free apple crumble is ready.
Eat it for breakfast, dessert or a tasty snack. Delicious with some ice cream, cottage cheese or whipped cream.