Schwarzwalder Kirsch cake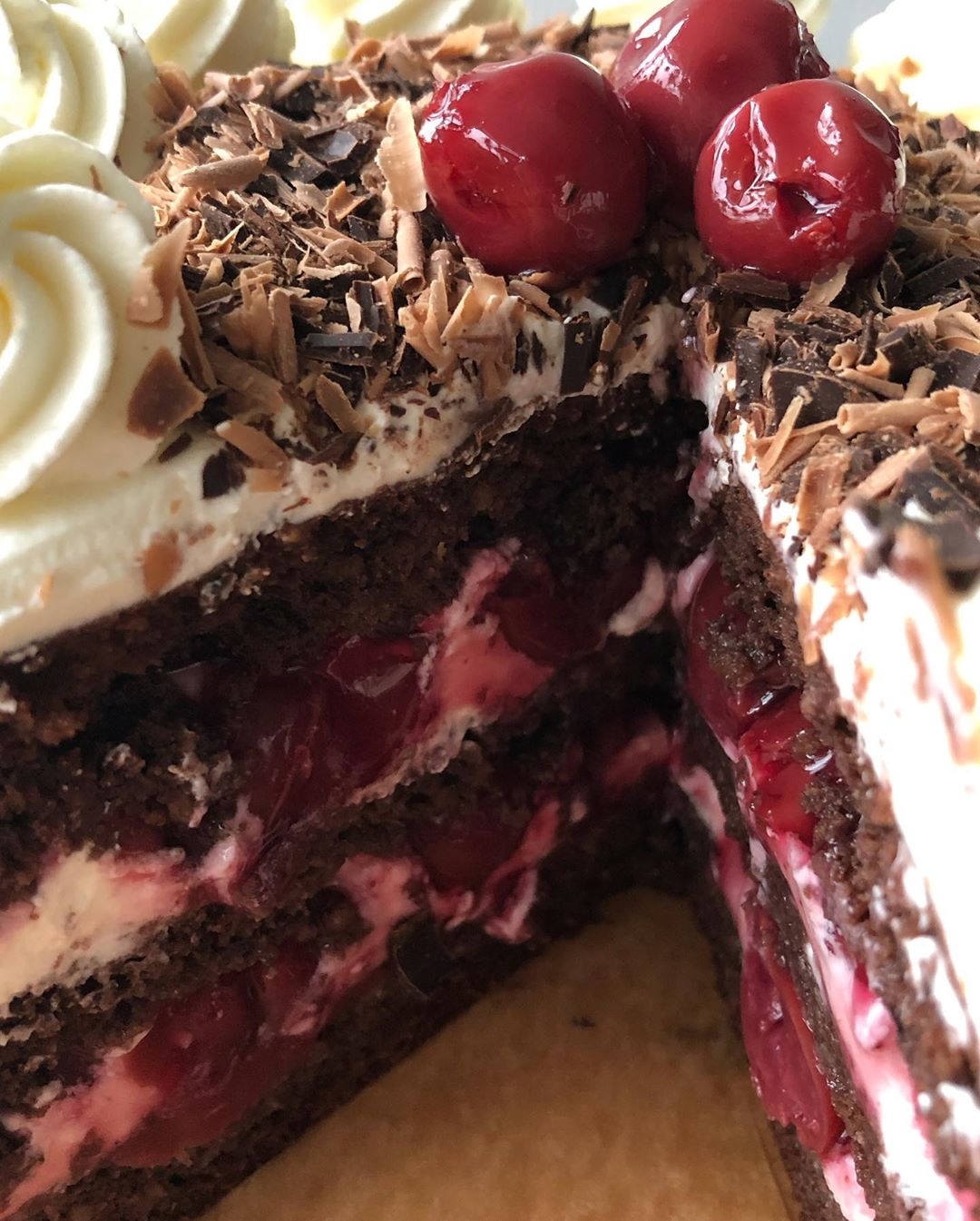 What do you need:
For the cake bottom: cake tin 20 cm in diameter
160 grams almond flour
4 eggs
100 grams of monchou
100 grams unsalted butter
2 tsp baking powder
1 tsp vanilla aroma
pinch of salt
3 tbsp cocoa powder
For the filling:
250 grams mascarpone
150 ml whipped cream
1 jar of cherries
optionally add kirsch to taste
For the decoration:
 Chocolate dark

Chocolate milk
This is how you make this low-carb blackcurrant kirsch cake:
Preheat the oven to 175 degrees.
Mix the butter, monchou, vanilla and Green Sweet erythritol until smooth.
Mix in the eggs one at a time.In a separate container, mix the almond flour, baking powder, salt and cocoa powder.Add this to the butter/monchou mixture and mix until smooth.
Add extra cocoa or erythritol to taste if needed.
Bake the cake in a round shape of 20 cm in diameter in the preheated oven for about 35 minutes. Check if the cake is dry by pricking the dough with a skewer. If it comes out dry, the cake is good, if it is still moist, put it in the oven a little longer
Remove the cake from the mold and let it cool.Cut the cake into 3 equal slices.
Drain the cherries and boil the liquid until it becomes a syrup.Add kirsch to taste if desired.You can also bind the juice with a few teaspoons of arrowroot powder (first make a paste of the powder with a little bit of water and add to mixture) or use 9 grams of Green Sweet Jelly Crystal.You then add the cherries to this so that you get a kind of pie filling, as it were.
Stir the mascarponewith a spoon, but not too long or it will become too thin.Beat the whipping cream with Green Sweet Sweet until stiff.Mix the mascarpone with the whipped cream.
Build the cake as follows:
Drizzle the cherry syrup over the 1st cake layer and sprinkle some of the cherries over it.Spread the thick layer of mascarpone/whipped cream mixture over the cherries.
Place the 2nd slice of cake on top and again a layer of cherries and mascarpone/whipped cream.Keep a few cherries aside for the final decoration on top of the cake.
Cover with the last slice of cake.Cover the top with the mascarpone/whipped cream and some nice tufts as decoration.
Grate the chocolate bars with a cheese slicer and the human milk grater and pure grater.Sprinkle the shavings over the top and finally the cherries on top
Source/photo: the low-carbohydrate kitchen